Rural NYS || Page-1 || Page-2 || Page-4 || Page-5
Original SYRACUSE ONLINE Source

---
Tuesday, June 13, 2000
A Death Becomes A Very Public War
By Hart Seely
A week after Bill Ward's death, private investigator Joseph A. Spadafore drove his Nissan Maxima up Johnson Road for the first time.
He'd seen "the Ward Boys" on TV - knew that Delbert Ward was accused of killing his brother as he slept - but as Spadafore dodged sinkholes, he found himself getting nervous.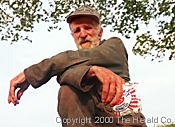 Lyman Ward, known as the shyest Ward Brother, nearly had a meltdown when first questioned about his brother William's 1990 death. (Michelle Gabel)
Image copied from Syracuse Online
A private eye for 10 years, Spadafore had signed on with Ralph Cognetti, Delbert's defense lawyer. But growing up on the north side of Syracuse, Spadafore knew nothing about farming. He wondered, could he relate to the Wards?
He arrived to find a scrawny, dirt-crusted man with a bushy white beard curled up on the ground, trembling. That's Lyman, Roscoe Ward explained.
Roscoe said not to worry: Lyman always shakes around strangers. He was born that way.
The boys had reached a state of agitation. After Delbert's arrest, troopers returned to confiscate the Wards' hunting rifles. Why the rifles, they wondered. They owned rifles all their lives. They hunted for food. Did the police view them a threat?
It took an hour to calm everybody. Then Spadafore began videotaping the scene.
He tromped through the kitchen, where pots and pans on the stove still remained from Bill's last meal, seven days earlier. Cow manure caked the floors and heaps of clothes. A shrine of broken TVs stood beside rotting cardboard boxes of junk.
The ceiling caved-in near a strand of fly paper so full of insects that they settled at its bottom, forming a pear shape. Walls were dark and grimy with soot from a wood stove fire. Clocks were stopped; calendars went back decades. An open jar of mayonnaise sat in the refrigerator beneath a basketball-sized chunk of ice hanging from the freezer.
Spadafore, looking through the viewfinder, repeatedly whacked his head on jutting debris.
Days later, with Roscoe watching him warily, Spadafore entered the room where Bill died - a place the brothers now avoided. Gray stuffing billowed from the torn mattress. A bare lightbulb hung from the ceiling.
Then he marched into a sealed-off room where mildewed black cobwebs laced the ceiling, and the calendar said 1965.
"Th' room hain't been used since my mother died," Roscoe said. The mother, May E. Ward, died on Valentine's Day 25 years earlier.
How did she die, Spadafore asked.
"Cancerous," Roscoe said. "She was sick one night, died the next day."
The tape still rolling, Spadafore walked the half-mile to neighbor Kenny Elmer's house. Elmer said he'd known the boys all his life. There was no way Delbert could have killed Bill. No way.
"Never seen 'em fight," Elmer said.
Then Spadafore turned the camera lens on Lyman. He asked a simple question, then another. He noticed the man in his viewfinder beginning to quiver. Spadafore retreated a step and softened his voice. Lyman began tilting to his left, trembling harder, melting down.
Two minutes into the session, Spadafore's voice turned to gravel. He said, "It's OK, it's OK," then turned off the camera.
In that moment, Spadafore reached two conclusions: These people were different than any he'd ever met.
And no matter what, he was not going to let them down.
" "That day that he got out of jail, I told him, 'Don't worry. I'll make sure nothing happens to you, don't worry about it.' And he held me to that. After it was over, I asked him, 'Delbert, how could you set there so calm?' He says, 'You said you wouldn't let nothing happen to me.' I just said, '(
" About 70 people packed Delbert's bail hearing June 25, 1990, in Madison County Court. It was all over in 15 minutes. Judge William O'Brien III set bail at $10,000 - extremely low for a murder charge. Madison County District Attorney Donald F. Cerio Jr. didn't object: "I didn't think he was going to hop a plane to France."
Considering the Wards' finances, it might as well have been $1 million. They didn't have it. Because the farm was deeded to Bill, the others couldn't even use their land for collateral.
No sooner did O'Brien gavel the hearing to a close than an auction mentality swept through the gallery. An elderly couple committed $1,000 to Delbert's bail. Then came another $1,000. Spadafore, assigned to count the money, found himself in a thicket of checkbooks.
"Within five minutes, I had both hands going, just grabbing checks."
In a half-hour, nine people posted Delbert's bail. Stockbridge Town Supervisor Charles E. Young returned from the National Bank of Vernon with a cashier's check for $10,000. Then Delbert Ward marched out to a cheering crowd.
"Is it good to be out?" a reporter yelled.
"It's good to be out," Delbert replied.
"Did it surprise you that your neighbors came together this way?"
"It did."
" "Delbert, he went and stayed with a niece. He wouldn't go back in the house. Finally, after about eight weeks, I told him, 'You better get your (&<
" Spadafore would bring pizza or burgers, which the boys devoured beneath the maple tree in their front yard. Roscoe would bellow, "Therrre's JOE!" and Lyman would ask when they'd go raccoon hunting. Delbert saw him as a real-life "Magnum P.I.," one of his favorite TV shows. Spadafore enjoyed the swashbuckling image, but it didn't help get things done.
He usually spent the first hour calming them down. Then Spadafore would address the latest crisis. He might need the name of their banker or a signature to get school transcripts. Trouble was, Bill had handled all that stuff. Bill would know - but Bill wasn't around. So Spadafore would start from scratch.
Also, he soon became slave to a rumor mill that never ceased.
A photograph was said to show a pillow over Bill's dead face. Did prosecutors have one? Spadafore tracked down the Munnsville ambulance team and took statements saying they saw no pillow on the corpse.
What about Bill's last meal? Were the clams contaminated? He visited the supermarket in a fruitless search for other complaints about the clams.
A rumor around Munnsville said Delbert had bought four cemetery plots on the day before Bill's death. Spadafore wandered Stockbridge Cemetery to find Bill's stone and put the claim to rest.
Everywhere he went, the grapevine crackled. He'd dine at a local eatery and find anonymous notes delivered to his plate.
"I went to Wendy's last week," someone wrote on a napkin. "Don Cerio was having lunch with Gene Rifenburg."
What did it mean? Spadafore had no clue. He just kept chasing leads.
Eight days after Bill's death, the Wards received three checks totaling $8,160 from a life insurance policy tied to the mortgage of their land. It was a common policy. Would the prosecutors try to claim a financial motive?
What about Bill's difficulty swallowing? He'd bought bags of cough drops and told people he believed he had a tumor in his throat. In fact, the autopsy disclosed no cancer, only a pea-sized cyst on the right side of his neck. Could it have cut off his breath?
But the rumors about the autopsy were real. The laboratory results of smear samples taken from Bill Ward's clothes and body showed semen. Was it human sperm or bull semen? The tests didn't say. And what did it mean? Bill Ward was known to wear clothes for weeks, months at a stretch. None of the Wards bathed often.
Today, medical examiner Humphrey Germaniuk says he did a rape test out of the chance that Bill Ward was accidentally suffocated during an act of sex. It has been known to happen. His responsibility was to check for all possibilities.
Cerio said if sex had been shown to be a factor in Ward's death, it could have lessened criminal charges against Delbert, making the death an accident rather than premeditated. As it was, the district attorney said, he never considered linking Bill Ward's death to sex.
But word of Germaniuk's rape test and autopsy findings angered the defense team. Was Cerio planning to prosecute a "sex-gone-bad" case? In an open meeting with Delbert's supporters, Cognetti railed at the notion. He told people to pack the courtroom and stare the jurors in the face. Then he mentioned the opposition.
"If God were to tell me today I'm going to die, the first person I would kill is Mr. Cerio," the defense lawyer thundered.
Defender and prosecutor moved toward a nasty, public war.
"Little things, things that now sound foolish, were pretty important at the time," Spadafore said. And central to Delbert Ward's defense was keeping the boys upbeat.
"We kept negativism at a minimum. Harry (Thurston) would interpret what was going on. He'd say, 'Don't worry. It's just a bunch of nonsense they're trying to create. Joe and the guys are going to take care of it.' I was sort of the aspirin for their pain. And that meant I had to go up there a lot, like a doctor on call."
Spadafore told Thurston to call him any time - day or night - if a problem occurred.
Around 11:30 p.m. July 31, the phone rang.
"You better get here fast," Thurston said. "Lyman is going down."
---
TOP || Rural NYS || Page-1 || Page-2 || Page-4 || Page-5