Submarine Veteran and Bride Re-new Marriage Vows on 50th Anniversary
By JOCS(SW/AW) Darrell D. Ames - June, 2000
Copied from the website of Commander Submarine Force, U.S. Pacific Fleet
---
A lot happens in 50 years. People are born and die, governments are established and overthrown, whole generations of families flourish and move on, and wars begin and end. To many people 50 years can be an eternity. To Fredo and Lauretha McFall however, the past half-century dashed by.
"It seems like we just got married," said Lauretha McFall. "I can't believe it's been 50 years now. That's really amazing," she said. What makes the story even more amazing and spectacular is what the McFall's did on their golden anniversary, a renewing of their marriage vows in the same Pearl Harbor Submarine Memorial Chapel on the very same day...50 years later.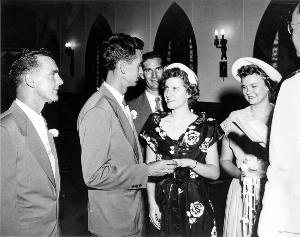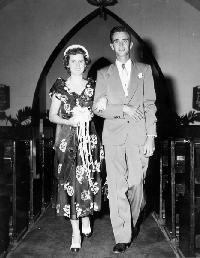 "This was really special," said Fredo. "We weren't planning on doing this, but our original best man (Norman Wood) set it up and surprised us. We were just planning on coming to Hawaii for a vacation, but he really went the extra mile to make the ceremony happen again," he added.
The McFall's were married June 8, 1950 in the base chapel. They renewed their vows exactly 50 years later, June 8, 2000, complete with the same best man in attendance. "It was nice to be back in Hawaii with Fredo and Lauretha," said Mr. Wood. "A lot of things have changed in the past 50 years, but it's still the same chapel." The Submarine Base newspaper, Patrol, even published the original wedding photo in the June 10th edition in 1950.
Fredo and Lauretha McFall were raised in the East Mountain area near Albuquerque, New Mexico. Fredo joined the Navy in 1947 and was stationed on the USS BUGARA (SS 331) when he made the call to Lauretha back home, asking her to fly to Hawaii and marry him.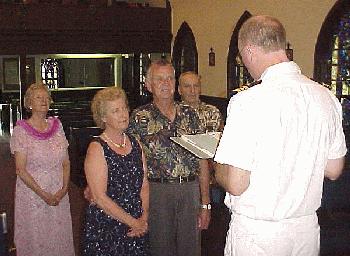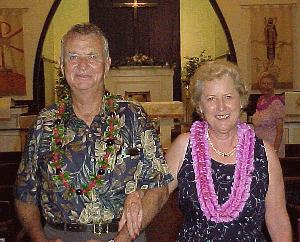 " I flew out here when I was only 18," she declared. "We got married and then Fredo had to leave a few days later because the ship was getting underway," added Lauretha. Fredo retired from the Navy's submarine force in 1967 and, after living in places like Hawaii, Scotland and Connecticut, the couple returned home to New Mexico. The highlight of Fredo's career was as an original crewmember (plankowner) of the USS NAUTILUS (SSN 571), the first nuclear-powered submarine in 1954.
Following his Navy career Fredo taught at Highland High School and later became an electrical contractor for McFall Electric, retiring in 1992. Lauretha was a homemaker and a bookkeeper for McFall Electric, and worked for Western Bank in Albuquerque, retiring in 1998.
The McFall's best man and Fredo's shipmate on the BUGARA, Norman Wood, and his wife Louise, traveled to Hawaii with the McFall's to enjoy a truly memorable vacation. "This whole trip was so special," said Mrs. Wood. "It means so much to them and we were just so excited to be a part of it," she added.
Following the ceremony, the couples were provided with a tour of the Pearl Harbor based fast attack submarine USS CHARLOTTE (SSN 766) and a private small boat tour around the harbor. The day ended with visits to the USS BOWFIN World War II Submarine Museum and the USS ARIZONA Museum and Memorial.
The McFall's marriage, which began a half-century ago, is still going strong. They even joked about being single for one evening, June 7, the night before they renewed their vows, but realized they were meant to be together and decided to "re-up" for another 50 years. "Too late to change now," said Fredo. "Besides, we're still young. Might as well go for another hitch. We'll see you guys back here in another 50 years," he added.