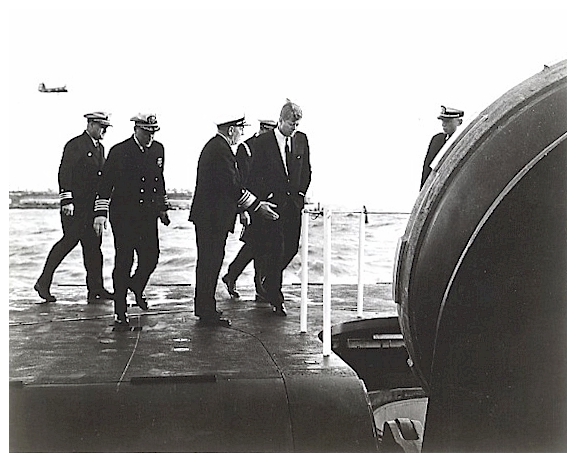 JFK inspecting missile outer hatch. Capt. Young 2nd from left.
At the time of Kennedy's visit, the Edison was in the yards at Newport News, Virginia, for repair of damage incurred during a collision with the USS Wadleigh (DD-689). However, the work had not been completed and in order to hide the mess of the repair work a wooden support was erected over it and covered with a tarp. Kennedy likely would not have been concerned about it but they wanted everything to look perfect.
Because Kennedy had a bad back a special hoist had been rigged to let him down through the AMR1 hatch. Many photos had been taken and several of them had been posted in the wardroom and crews mess. The crew was still talking about his visit a year later and felt a special regard for him; consequently, they felt an even greater sense of loss upon his death.
I reported aboard the Edison a year after President Kennedy's 1962 visit and missed the opportunity to meet him. I was on my first patrol on the Edison at the time of his death.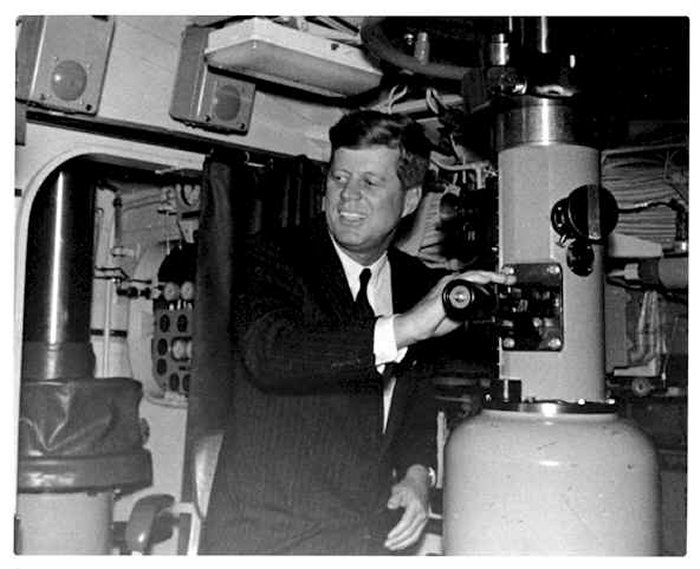 JFK looking at the Edison's periscope.
Would we soon hear,"This is NOT a drill." ?
When our Commanding Officer, Capt. Charles Young, announced over the 1MC the death of our president, John F. Kennedy, our crew's reaction was similar to that of all Americans, i.e., dismay, shock and grief. Additionally, we experienced another emotion almost as strong, namely, fear; fear that the next announcement we would hear over the 1MC would be, "War has been declared by President Lyndon Johnson. We are now at war with the Soviet Union."
We all waited anxiously as news about the details of Kennedy's death and our country's response to it were announced over the next several days .
Would we be at war with the Soviet Union soon? Would we be launching our 16 nuclear missiles blowing Russia into a nuclear hell? Would the Edison be attacked by the Russians? Would we soon hear, "Now man battle stations - missile. This is NOT a drill."?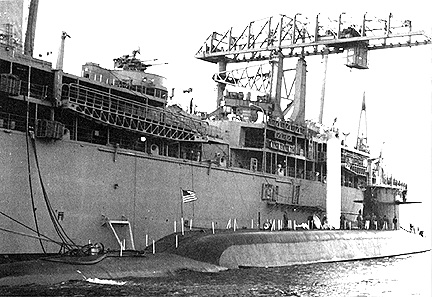 Edison loading a missile from the USS Hunley
---
But, our greatest fear was, would the United States be attacked by Soviet atomic missiles? Would we return to a country decimated by Russia's nuclear arsenal? We felt certain that one of the primary targets was our home port, New London, Connecticut. And if attacked, would our loved ones survive?
Fortunately, we never went to war.
But, the assassination of President Kennedy was indeed one of the most important events of the twentieth century. And, as we made subsequent submarine deterrent patrols during the cold war era the possibility of a nuclear war was always present at the back of our minds. I will never forget those times. Our world had changed forever.
On the 50th anniversary of the death of President John F. Kennedy
Stanley A. Mize