SILVERSIDES LIVES
Posted by Dave Eberhart --- former ST1(SS)
May 31, 2000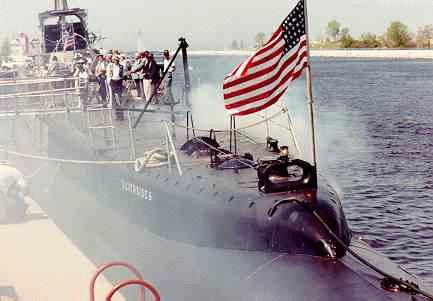 Sid Note: Image copied from HERE
---
Written by Dave Williamson --- former MM3(SS)
Atule SS-403, Ethan Allen SSBN-608(B), Corporal SS-346
---
Picture a Sunday morning a little before 1100 hrs., May 28. A brisk, windy, rainy day in Muskegon Michigan. But it is a soft rain, the misty kind that you don't mind being out in if you are dressed for it. The crowd is gathered around and trying desperately to all fit inside a large tent setup for the occasion. The chilly breeze off Lake Michigan occasionally flaps the tent roof. The year 2000 Memorial Day Service begins and is conducted complete with speakers and helicopter fly-overs. A tribute is paid to all submarines and their crews lost at sea as a carnation is thrown into the water for each loss.
At the conclusion of the service the word came down to the engine room by a small hand held radio from an accomplice topside, "Now station the maneuvering watch. Prepare to get underway. Single up all lines." The air start hisses and then the unmistakable beat as the after engine room starts to roll and rumbles to life. In a moment of theater, just as the first engine to start (# 3) is coming up to speed, the emergency shutdown is hit and she coasts down almost to a stop. Then the fuel rack is reset and she rumbles back to life in a cloud of smoke to the great relief of the crowd. A not too subtle reminder that she is mighty old, mighty tired, but she still has life left and is going to continue to give it all she's got.
The crowd lines up to come aboard. They move quietly below into the forward torpedo room, and began their slow pilgrimage aft through SILVERSIDES. There were many well-wishers and the curious and many are old Submariners and probably future Submariners. Most with family or friends in tow, showing them where they stood watch, where their bunk was. Remembering funny stories of things that happened in their former life, when they were just kids on an adventure, as well as a lot of harrowing stories of not so funny events. Events brought back again that they thought time had long erased. With the audible reminder that the rumble of the diesels running again aft provides. The cool and misty draft that they draw through the boat as they run and the faint smell of diesel fuel that permeates the air -- for just a moment in time they were steaming again -- and their mind was filled with long past events.
They pass through the boat, taking in sensation after sensation, emotion after emotion. As they step into the after engine room, it's hard to miss the gratitude in the eyes, the hint of a tear in many. They often try to make a comment about either they or their father having served on SILVERSIDES during WW II or perhaps another boat, but it is difficult to hear much over the engine noise. So they pass on aft, glad to have experienced it once again or for family members to have just for a moment, got a faint glimpse of what Dad must have experienced.
So the question begs to be asked; How is it possible in these days of cost cutting and cost effectiveness for such an experience to be possible? Many cities have old diesel powered submarines, in various states of disrepair, tied up to a pier (some even sitting on dry land) and they are used as basically a tourist attraction. But SILVERSIDES is something special. SHE LIVES.
There is a small group of volunteers that have her shining and an even smaller group that has brought all 4 engines to life. This engineroom group is headed up by an old USS ATULE SS403 submariner of 1960's vintage, Ray Vargo, who is truly a piece of work. This unconventional leader and his little band of patriots have taken on enormous problems in trying to get four 60 year old Fairbanks engines, plus the needed support systems, coaxed back to life. They have done it with tremendous servings of will power, spares found on the boat, and some materials bought over in town when inspiration told them that this would probably work OK for that. This has literally taken them years of thankless hard work, save their own personal satisfaction.
My hat is off to Ray and his crew and all the volunteers that have brought SILVERSIDES so far. This was my first time to visit her and give them a hand. I think there is probably no more deserving boat still in existence, in view of her distinguished war record, to have such care lavished on her. I intend to go back often. I am sure they would be glad to get any help any of us could give. They must be getting tired as they have been working on her for the last ten years.
When I agreed to come to Muskegon to give them a hand, I thought it would be pretty cool to see a Diesel Boat again, as I hadn't been on one in over 35 years. I had also been one who had never really done much on Memorial Day, and so I thought that would be kind of nice too. Memorial Day had typically had to do with some kind of races for me. But I found a larger purpose than a tourist attraction and that it would be kind of cool to hear the diesels run in Muskegon. After talking with Ray and his crew, I think they started out the same way and have come to the same conclusion with time.
SILVERSIDES pays tribute to all those WW II sailors that served on her as well as other boats just like her. Those who faced and endured the terrible dangers that they did, and made our ultimate triumph possible. We owe them the moments she can provide.