Sworn to secrecy -
Sailors reunite after book opens page on sub
Mum's still the word
Wednesday, July 19, 2000
Matthew Marx
Dispatch Staff Reporter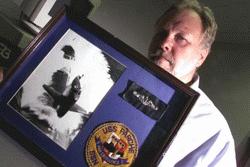 Alysia PeytonDispatch
Ken Sewell with memorabilia from his days on a spy submarine
Ken Sewell, a former Navy crewman on a nuclear submarine decorated for spy missions during the Cold War, could tell you stories.
But doing so would land him in federal prison.
So the West Side resident has had to keep tight-lipped about his eight years as a machinist mate first class aboard the USS Parche, SSN 683.
All that's about to change, though. Sewell leaves Thursday for Bremerton, Wash., to attend a three-day reunion of veterans who served on the Parche during the 1970s and '80s.
The veterans organized the reunion to commemorate the 100th anniversary of the commissioning of the first U.S. Naval submarine, the USS Holland.
Because the Parche remains in active duty for another three years, its current and former crew members aren't allowed to divulge any information about its classified missions.
"The agreement we signed waived certain constitutional rights," Sewell said, mentioning free speech and the right to trial by jury.
"We're going to be real particular about who is at the reunion," he said.
Aside from being able to speak freely at the reunion, it's a chance to see buddies that he hasn't seen for 25 years, Sewell said.
But over time, some information has come to light about covert operations in Soviet waters involving the Parche and its sister fast-attack subs, the Sturgeon-class Halibut and Seawolf.
Many of them are described in the 1998 book Blind Man's Bluff by Sherry Sontag and Christopher Drew. The authors uncovered declassified military documents and interviewed submariners and intelligence officials under the condition of anonymity.
Several chapters detail Parche missions to the Sea of Okhotsk and the Barents Sea, deep in Soviet waters, to tap underwater cables used by Russian intelligence. According to Sontag and Drew, the Navy worked jointly with the National Security Agency to send divers to install and retrieve underwater recording devices. The subs had to avoid detection by Soviet warships and surveillance equipment. Some of the missions were code-named "Operation Ivy Bells."
On these missions, which could last as long as six months, the subs carried explosives that were to be detonated in case the subs were detected. Crew members were aware that their lives were in danger.
Sewell served on the Parche when the authors said these missions occurred, but he could give no specifics nor confirm that any of the events in the book took place.
A 1970 Walnut Ridge High School graduate, Sewell joined the Navy when being in the military wasn't popular on campuses nationwide, including Ohio State University.
"I thought I was wasting my time in college. Professors would spend class time talking about the Vietnam War instead of math. They would give better grades to people who shared anti-war views or kept their mouths shut," said Sewell, who now works as an environmental instructor for Liebert Corp.
While other veterans of that era have been able to discuss what they did, it hasn't been that way for Sewell.
"A lot of us were happy because after 20 years, it (the book) explains the types of things we were doing -- why we were away for so long," he said. "It was a school to my family and friends. Others of us feel like we were betrayed because of the release of classified information."
The book's release helped bring about the reunion, Sewell said. Some Parche vets saw it advertised on Amazon.com and decided to submit reviews, mentioning that they served on the vessel.
It brought about a reunion via the Internet, with the Parche veterans forming their own mailing list. Some list members have been warned by the government after mentioning things they shouldn't have in e-mail, Sewell said.
What Sewell can describe without breaking security is generalities, such as what it's like to spend as long as two months underwater, dropping down to the ocean floor.
"We manufacture our own air, water and light. You learn to appreciate fresh air and sunshine," he said. "Sometimes people panic from close quarters.
"You're on a vessel that's more complicated than the Apollo spacecrafts going down 1,000 feet underwater, and it's built by the lowest bidder."
Still, Sewell and his crewmates always felt as if they had the advantage over the Soviets because of superior technology, he said.
"We were outnumbered, but we were just cocky. . . . We were playing cowboys and Cossacks," he said.