Blenny's story began at Electric Boat, Groton Connecticut on 5 April 1944. Her last dive was 7 June 1989. The following is copied from the home page of Frank Toon, a WWII crewmember of the USS Blenny SS-324. (Frank's page is located HERE )
Twelve miles off Ocean City, Maryland
a demolition team does its job.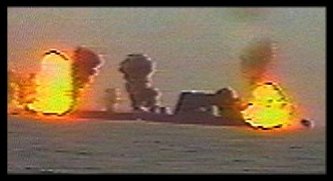 Requiem To A Submarine
By J. Phillip Matuzic (Blenny crew member)
Forty-two officers and crew members of the USS Blenny (SS-324), including her war time skipper, Captain William Hazzard, traveled to Ocean City, MD from all over the country to witness the last dive of their "Sub" on June 7, 1989: she will continue to serve mankind as a reef. The occasion was also an opportunity to renew old friendships and relive memories of experiences shared some forty-five years ago. The Blenny was towed fifteen miles out to sea accompanied by us in chartered boats where she made her last plunge beneath the Atlantic waves. After thousands of successful dives, the gallant lady submerged for the last time, never to surface again. She settled into the sea slowly and proudly, with hardly a dry eye looking on. As a TV commentator said, "It took a Navy Demolition Team to do what the enemy and angry seas could never do: sink the Blenny" Rest in Peace. A most heartfelt thank-you to all the wonderful people of Ocean City andthe State of Maryland who gave us the opportunity to experience this nostalgic moment.
(This article was copied from the August 1989 issue of Polaris)